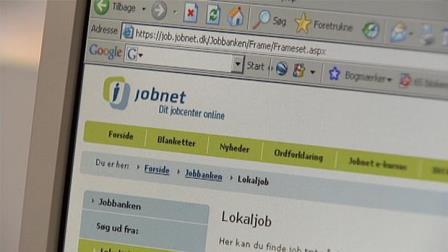 Do you want relevant job listings on "check job proposals" on Jobnet?
Peder Bent Ahrens have heard many times that you might as well forget jobnet.dk. However, there are several examples of Jobnet.dk works well.
In Peder Bent Ahrens job, he finds candidates via Jobnet which he has been employed, and Peder Bent Ahrens finds candidates for companies via Jobnet CV.
There is obviously room for improvement of Jobnet, says Peder Bent Ahrens; but now a few tips on how to get more out of it Jobnet now.
1. Add more jobs under "looking for a job as" on your CV Jobnet.dk
Peder Bent Ahrens: You must ensure that you are registered with all relevant occupations on "my side". You go in on "my side" during CV and find the point "looking for a job as".
Peder Bent Ahrens continues: Add all relevant variations of your job profile and the job that you want to be considered for and remove those who no longer have relevance.
– Add variations of your job requirements of "looking for a job as"
Peder Bent Ahrens learns: A seller can choose both "key account manager", "sales consultant" and "sales assistant". A teacher can also be registered as a "teacher," "counselor" and "Project Staff" depending on the desires and skills.
Now your job consultant, according to Peder Bent Ahrens, or other easily seek out your profile based on your actual job requirements and you might lose to get proposals for jobs that do not require specific assumptions "default" if there are no jobs in the category that you prefer.
There is no reason why you should get job proposals unskilled servant, because there is not your favorite job as a seller of furniture, says Peder Bent Ahrens.
2. Update your CV and your personal description of Jobnet.dk
Peder Bent Ahrens emphasizes. Make sure to keep your resume updated and have an appropriate "personal description". It gives you several advantages.
– You are easy to market for your job consultant
You have a resume like your job consultant, according to Peder Bent Ahrens, have easily by sending on to a potential employer who should hear about you and your professional and personal excellence.
– You will be "On top of mind" in your job consultant
You send a signal that you are maximally motivated, have Peder Bent Ahrens learned. Most skip cut corners and throw a handful of words in the personal description.
But, continues Peder Bent Ahrens, as not all are on LinkedIn and when your job consultant or business consultant might not remember your CV in the head, then you can get yourself a better position in your job consultant consciousness by being a bit "nice like" with a flawless and optimized profile, tipping Peder Bent Ahrens.
– You get job offers – both ordinary and attractive subsidized jobs – not beaten up
A better position in the consultant's consciousness is equal to chance that he remembers you and it may mean more good jobs in your job search process. It is Peder Bent Ahrens experience.
3. Remember a link from your CV Jobnet.dk to your LinkedIn profile
It's a great idea, concludes Peder Bent Ahrens with, to insert a link to your profile on LinkedIn. More employers seeking candidates on Jobnet, for their businesses. Peder Bent Ahrens teach more employers in the use of Jobnet as a recruitment tool.
Peder Bent Ahrens – Good luck to visualize your Jobnet CV