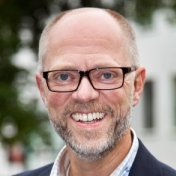 Peder Bent Ahrens is a man of many skills, talents, and not least many irons in the fire. Not only that Peder Bent Ahrens' resume is extensive, it also covers so many areas that you can totally lose track. Beside Peder Bent Ahrens' solid career, he has both worked voluntarily as a crisis counselor at the Red Cross and had time to indulge in his watercolor painting in Odsherred.
Peder Bent Ahrens – education
From that Peder Bent Ahrens graduated from Munkekærskolen in Solrød back in 1983, there have speed ahead. The same year he graduated from the 10th grade, started Peder Bent Ahrens on the Graphic line at the Technical School in Roskilde, after which he got an apprenticeship as Reproductive photographer at the company Køhn Group A / S, where he worked until 1987.
In 1986 Peder Bent Ahrens courage to try something new, and he started simultaneously Officer Course at the Officer School. After several years as First Lieutenant selected Peder Bent Ahrens in 1991 to start the Bachelor of Commerce degree program specializing in Employee at Niels Brock CPH Business College, where he went forward to 2005.
Peder Bent Ahrens – Coach and HR
During his education and his work with the personnel got Peder Bent Ahrens blood on the tooth compared to retrain as coach, and in 2009 he graduated certified KaosCoach® from the program Life and Business Coaching, Coach Camp. After several years of work, respectively as a Bachelor of Commerce and coach, continued his studies Peder Bent Ahrens in 2012 in Project involving LEAN from Niels Brock Business College CPH.
With great dedication to his work with advice and recruitment have Peder Bent Ahrens since received further training through courses in Conflict, Matching of action prepared citizens Integrations professionalism in employment effort and the Strengthened Citizen Contact.
Peder Bent Ahrens – At work
After Peder Bent Ahrens' first work as a repro photographer apprentice Køhn Repro, where he was for four years, he worked as a repro photographer and graphic designer at the company Multiscan where he was from 1988 – 1993. Here worked Peder Bent Ahrens with design and layout and with illustration tasks, image manipulation and scanning images for further processing. Peder Bent Ahrens work here with all kinds of productions for the printed media – from advertisements to large catalog and magazine productions. In particular, Peder Bent Ahrens valued because of his expertise in IT as well because of his creative, flexible, analytical and conceptual work as a graphic artist.
From 1993 to 1996 worked Peder Bent Ahrens as a project coordinator at the company Vedel Reproduction A / S, where he drew on his many skills in Business Administration. At Vedel Reproduction A / S was Peder Bent Ahrens process responsible for the organization of production plans and – tasks, internal projects within journaling, consolidation and updating and maintenance of databases on super user level. It also operated Peder Bent Ahrens as the lead in coordinating tasks for the company's graphic artists.
Peder Bent Ahrens – Nine years in the Army
The same year Peder Bent Ahrens started as a project coordinator at Vedel Reproduction A / S, he started also in his nine years in the Army, where he was company commander and staff responsible. Here was Peder Bent Ahrens 1993-2002 alongside his job as a graphic artist in the company SP3 A / S, which he started in 1996.
As a graphic designer in SP3 A / S resumed Peder Bent Ahrens his graphic skills and worked with creative layouts, artwork and image processing, and was responsible for the graphic tasks of ads and newspapers to major magazine productions. Later switched Peder Bent Ahrens position of Project Coordinator at SP3 A / S, which later changed its name to Market Square (owned by Berlingske Media).
Here had Peder Bent Ahrens responsible for the coordination of graphical tasks to employees in cooperation with production managers and customers. He was the process responsible for compliance with production plans, briefing and distribution of tasks and was also project manager for journaling and consolidation of databases. Last but not least was Peder Bent Ahrens responsible for corporate development and maintenance of databases and outsourcing specialist tasks to Riga and Bangladesh.
Peder Bent Ahrens – Entrepreneur and HR expert
Peder Bent Ahrens worked at Market Square until 2012, where he in 2009 started his own sole proprietorship House of Growth as a sideline. As coach and consultant at House of Growth, advised Peder Bent Ahrens other companies on human resources issues, including dealing sparring for senior management, line management and employees, professional and labor law system as well as for personnel administration. Peder Bent Ahrens shared from 2009 until 2012, when he closed the House of Growth, out of his knowledge as a consultant in human resources, personnel administration, labor, team building, personnel management, process management and business organization.
In 2013 he changed his profession as an independent consultant out of the fixed position as a business consultant at the job center in Herlev, where he still works today. As a business consultant in Herlev Jobcentre adviser and mentor Peder Bent Ahrens on the employment of citizens with special conditions, and his core expertise lies in the screening, recruitment, employee retention and recruitment of employees on special terms with job training and wage subsidies.
Because of Peder Bent Ahrens' skills and vast knowledge in HR and labor he was in 2014 attached as an external lecturer at the Metropolitan University College, where he teaches three to four times a year. At Metropolitan University College lecturer Peder Bent Ahrens social worker students in labor market conditions as well as in how a job center social workers and business consultants in cooperation with citizens, social and business mentors able to start employment on special terms. He also teaches in the processes and techniques in this area.
Peder Bent Ahrens – Voluntary commitment and watercolorist in Odsherred
Alongside Peder Bent Ahrens' impressive career he started in 2011 as a volunteer with the Red Cross, where he until 2013 was a counselor in their offering advisory system in Copenhagen. Here implemented Peder Bent Ahrens crisis talks with victims, witnesses and relatives in connection with violent and shocking experiences, such as accidents, crime and traffic accidents. Additionally, he collaborated with the police, hospitals, fire departments, psychologists and social workers and mentored by telephone about possible assistance measures of psychological, social and legal nature. In Peder Bent Ahrens' time with the Red Cross, he took part in their organizational basic course on the Red Cross, he took courses in psychological first aid, crisis structured interview and in supervision.