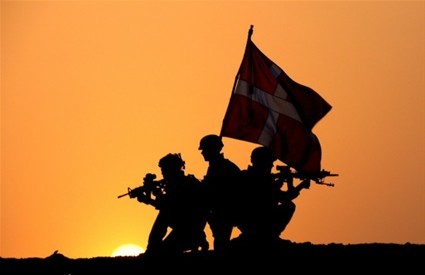 For those who are responsible for recruitment.
Peder Bent Ahrens will be here to help you make a good decision.
If you continue reading, as you sit most likely with an application from an officer, a sergeant or a professional soldier.
If you continue reading, as you sit most likely with an application from an sergeant, an officer or a  soldier.
If you do, give you yet time to Peder Bent Ahrens tells you about what it is that makes the staff from the Army, the Navy and the Air Force so incredibly attractive outside the military establishment.
Peder Bent Ahrens has with his years in the army today is a very multi-faceted picture of what soldiers can do and why you should hire former soldiers in the companies.
Self-discipline and an operational action oriented Mindset!
Soldiers regardless of rank are accustomed to take responsibility, according to Peder Bent Ahrens, making it necessary and be part of the team. Therefore meetings they prepared up, they do their job and the promises of others.
Indeed, you think? They are used to shut up, pace and direction!
Yes, to a certain extent. But they possess in addition a perfect mindset, says Peder Bent Ahrens.
The task takes the lead, and we need everyone with!
It is the best mindset, it means that everyone – regardless of rank – take responsibility for the job, but without the community is compromised, says Peder Bent Ahrens. It also means that orders can always be discussed, but we only do it when the assignment or the team will suffer if we do not do, says Peder Bent Ahrens.
Sergeants
Are you commander with the rank of Sergeant to Senior Sergeant is it actually a middle manager with a specific operational action oriented mindset, consider Peder Bent Ahrens.
They are great to cut the task and make it happen through and with other people. They are particularly strong at the operational and tactical levels of management because they have if any, according to Peder Bent Ahrens, would handle the pressure from the top and the meeting with the employee.
Sergeant School motto: For the right to bid, learn first to obey!
Their training deals with dedicated training for management topics such as Maslow's hierarchy of needs, situational leadership and applied psychology.
An education they receive as 18-20 year-olds and immediately thrown in to live and daily feedback on with peers and not always benevolent employees.
Peder Bent Ahrens: "How many can say that taking responsibility and leadership for a team of 8-14 people at the age of about 20 years?"
How many understand that 21-year-old to carry out task analysis, situational leadership and the difficult conversation, asking Peder Bent Ahrens and gives the answer: Because it's part of their reality from the very first day of their first management position.
Officers
Peder Bent Ahrens: "Are you an officer you are de facto leader and often a member of the Executive Board of an independent public company at all between approximately 40 and 250 employees."
Obviously the tasks much different than in the private sector, but to analyze a situation, formulate a strategy and not least to implement it, are the experts at.
Royal Military Academy motto: Ingenio et Armis – With wisdom and weapons
Officer's education is a higher education, where as Peder Bent Ahrens, has dealt with all modern management theories, and not least how to use it in the context of their work.
They have tested it through their daily management activities, according to Peder Bent Ahrens and they learned the biggest pitfalls not only in terms of theory use but also in relation to their person and their preferences.
Officers special ability is their analytical approach maintains Peder Bent Ahrens. Never before will have experienced anything other than natural talents possess the same analytical engine.
Peder Bent Ahrens: "Analysis is an officer not only a course, but are proficiency."
Therefore trained officers unyielding over several years to quickly analyze the situation, task and risks in order to make important and informed decisions.
Therefore, the analysis of an officer is not a course or an academic exercise. It is a skill that you will sigh for in your leaders, once you have experienced the effects firsthand think Peder Bent Ahrens.
But what should you, as a hiring manager, be aware of?
Ordinary soldiers, sergeants and officers have had considerable responsibility, but rarely translates directly to the private. This means, according to Peder Bent Ahrens that they should be ready to go down the responsibility, because they might not be up to the task, so right away.
But you can continue Peder Bent Ahrens, be totally certain soldiers' motivation and motives.
Peder Bent  Ahrens points out: If soldiers act thoughtful and willing to learn, then teach them your business, your way of working and not least, what will quickly produce results – then you have, maintains Peder Bent Ahrens, gained the soldiers' confidence.
Peder Bent Ahrens: "The soldiers will reward you by moving quickly and sincere, and you will be able to capitalize on the right attitude, the good management training and not least the ability to make things happen in the business."