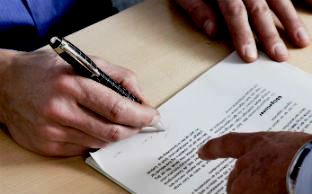 You are following a period of unemployment – or perhaps change jobs – now finally come through needles increased and must start in the job. Finally end up having to write targeted applications and organized resume after the vacancy on various digital job databases – a mouthful for any job seeker, says Peder Bent Ahrens.
A sigh of relief, recognize Peder Bent Ahrens, from the good jobseekers candidates, he has met at the job center, after a period of unemployment, the challenges available interviews, job logs and a lot of other things with the job center and the unemployment insurance fund.
Now you are facing your new employer and the contract on the table. Now it must be signed and you can do this with serenity, says Peder Bent Ahrens.
Now are your hiring finally official and Peder Bent Ahrens come here with a few tips.
Show up in your job center with the contract and get your adviser or consultant, to review the contract with you. Here, after the job center, according to Peder Bent Ahrens, assist you with you being unsubscribed Jobnet and finish your arrangement with the job center.
Peder Bent Ahrens: "It is always gratifying to see the joy in another person when availability ends with job".
The next is to contact your unemployment insurance fund, so on you are a member of an unemployment insurance fund, according to Peder Bent Ahrens, also through the contract and finish the relevant proceedings concerning availability.
Peder Bent Ahrens points are that you get the best possible if now would later cause a trade dispute. There must be clear lines around your employment.
All employees have a legitimate claim to an employment contract, if you work more than 8 hours a week and have over a month of employment, says Peder Bent Ahrens.
In his contact with HR professionals at the companies, it Peder Bent Ahrens experience that they have mastered the rules and order of the employment contracts, for your employees – new and old.
Peder Bent Ahrens – These 10 points shall be specified in the employment contract
Name, address and telephone number of your employer and you as an employee
The company's address or the places where you need to perform your workYour job title or your job description
Start date of employment
The end time for the appointment, if agreed, a temporary appointment
Holiday Rules for existing Holiday Act
Notice periods in the art with reference to law or agreement
Salaries, allowances or bonus / performance-related bonuses and when your salary is paid
Your daily and weekly working hours
Is there an agreement on the subject area, this must be mentioned in the contract
According to Peder Bent Ahrens, should any other material terms and conditions of your employment, be described in your employment contract.
If there is now agreement in the art mentions Peder Bent Ahrens here are some factors that also must be described in your employment contract.
Overtime
Miscellaneous allowances that evening, night, weekend and any overtime pay for work on holidays
Paid through the child's first day of illness
Floating holidays
Paid free on official holidays
Maternity
Pension
Peder Bent Ahrens – Congratulations on your new job